December 19, 2022
Employer Tips: Best Practices For Hiring Those With Disabilities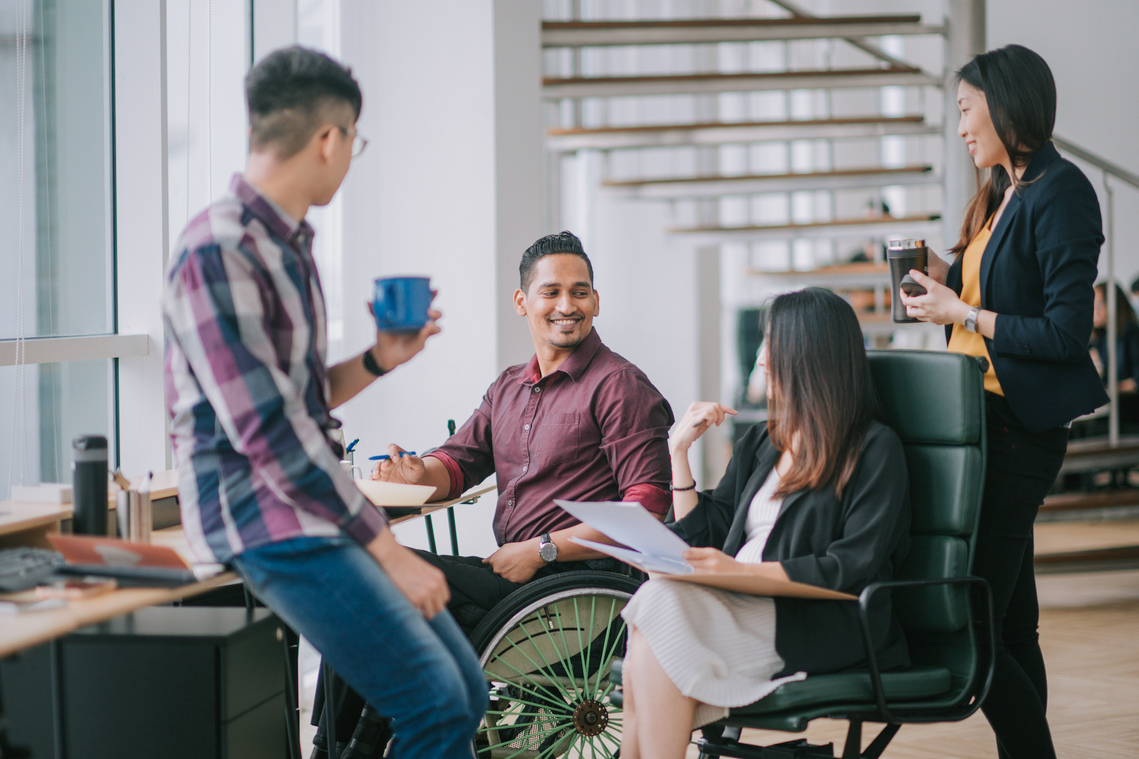 During the Great Resignation in 2021, an unprecedented 45 million Americans quit their jobs. And the trend continues. According to a recent Zippia study, on average, 4 million Americans are quitting their jobs each month in 2022. This has employers scrambling to deal with high turnover rates. If you're an employer needing to rebuild your team, there is a huge market of potential employees with extensive work history and experience who are ready to add value to your organization: people with disabilities.
At Allsup Employment Services, it is our purpose and our passion to help former workers return to work after a medical issue or injury has forced their absence. After recovery, many of these individuals are eager to get back in the workforce. To make them productive team members, employers must design a strategy to set them up for success and create an inclusive environment where they can be welcomed and championed by their managers and co-workers. Here are three best practices for hiring those with disabilities.
Build A Disability Inclusive Workplace.
To create a workplace that's truly inclusive of people with disabilities, forward-thinking employers must provide all employees with an equal opportunity to succeed, grow and be compensated adequately. This will require resources and ongoing training.
This initiative must come from the top, with leadership buy-in and accountability. It's imperative for hiring managers to understand Americans with Disabilities Act (ADA) requirements and know how to work with reasonable accommodations.
Leadership must also understand it's their responsibility to provide a safe environment for both new and existing employees to self-advocate. Team members at all levels of the company should be encouraged to engage and embrace disability inclusion as well. This can be done through communications and training opportunities provided by supervisors and executives.
Be Upfront About Reasonable Accommodations.
Those with disabilities may require reasonable accommodations to have an equal opportunity to land a job and thrive in their role. According to the ADA, a reasonable accommodation is a modification to a job, work environment, or the hiring process that enables a person with disabilities to perform their job at the same level as an employee without a disability.
When your organization posts job openings, you can say qualified candidates with disabilities are encouraged to apply and let them know how to request an accommodation. Also, there are many disability-friendly job boards where you can post openings. Taking these actions greatly increases your chances of having individuals with disabilities apply.
It's important to learn the ADAs interactive process. This 5-step process fosters open, honest communication between you and your employee so that your company understands what is required to truly support an individual. Check in with your Human Resources department to learn more about this process and get comfortable with it. It's helpful to have an understanding of it before you sit down with a prospective or existing employee who needs an accommodation.
Work With An Employment Network.
Many progressive employers are partnering with Employment Networks (EN) like Allsup Employment Services (AES) to reach this talented pool of prospective employees. AES, which has nationwide reach, can provide your organization help with reaching job candidates, as well as using disability-friendly job boards and having conversations with employees around reasonable accommodations.
We have helped thousands of people with disabilities re-imagine their work and make a difference at prior employers or new organizations. If managed effectively, it may be possible to maintain relationships with employees who experience serious medical conditions – encouraging them to reapply when they are ready to return to work, sometimes in a different role.
Building a disability inclusive workforce and hiring people with disabilities is worth the time, effort and resources it takes. These employees and the resulting collaborative environment you'll create can yield winning results for your organization. For us at AES, it helps accomplish our mission: getting former workers back to work. People with disabilities are a skilled, resilient, dependable workforce ready to help your organization achieve its goals. Let's work together to get them back to work.
For more information on Allsup Employment Services and how we can help your organization access valuable talent, reach out to us here.