January 11, 2023
Top 5 Trends In Disability Employment That Can Make You More Employable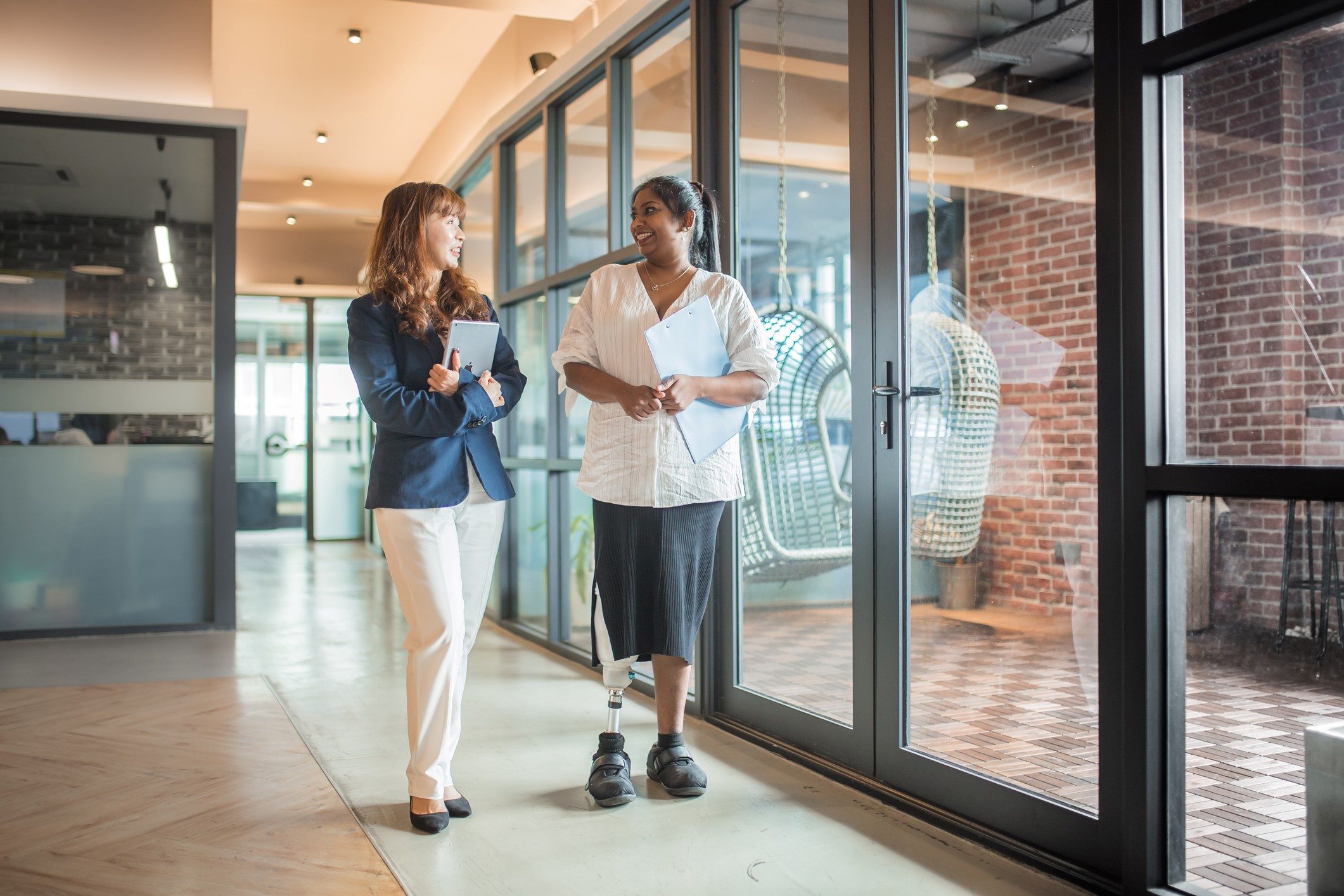 Job seekers with disabilities can face significant challenges when navigating the job market. We at Allsup Employee Services (AES) help former workers with disabilities return to work. At AES, we provide free services to beneficiaries through the Ticket to Work (TTW) Program. We also aim to deliver resources and services nationwide to help Social Security Disability Insurance (SSDI) recipients make the most of this federal disability insurance program.
SSDI and work can go hand in hand, with 7.7 million adults who are eligible for TTW because they are current SSDI recipients. As U.S. workplace culture continues to change, here are some of the most promising trends in disability employment for SSDI recipients today.
1. Hybrid and remote work: Working from home opens doors.
The 2020 coronavirus pandemic shattered the myth that productivity demanded an in-person workforce. After the government lifted movement restrictions, only a portion of businesses returned to normal. A 2022 Gallup poll showed that 39% of remote-capable companies continued to operate their teams via work from home.
Another 42% of companies started using a hybrid approach, allowing employees to work from home for at least part of the week. This has been good news for those with disabilities.
Working from home has become common, and this gives you the flexibility to work from home and avoid the burden of a commute. It also means you can use your own home, as well as office equipment that may suit your disability.
As an SSDI recipient looking for work, this level of accessibility still includes some hurdles to overcome.
Americans with disabilities face a technology gap. According to data from Pew Research, 81% of adults without a disability own a personal computer or laptop, while only 62% of adults with a disability own these devices. Employers can close this gap by providing workers with essential technology. This gap also highlights the priority of technology among employees and job seekers with disabilities.
2. Big changes in communications technology creates new opportunities.
Communications technology, such as Zoom, Microsoft Teams and Google Meet, allows work from home workers to interact and collaborate. In some cases, these platforms also make it easier for workers with disabilities to take part in day-to-day operations.
For example, video networking platforms like Zoom offer automated closed-captioning features that help people with hearing impairments to participate in meetings. Instant-messaging platforms like Slack can assist those who interact more easily via written text. These kinds of innovations break down barriers, leveling the playing field for workers with disabilities.
3. Diversity and inclusion are growing in workplace culture.
American employers are placing a higher priority on diversity and inclusivity than ever before. Diversity, equity and inclusion (DE&I) initiatives now and going forward are incorporating disability employment for the most progressive organizations. Rather than weeding out applicants with disabilities, employers are more open to integrating these individuals into a diverse workforce.
After the Great Resignation of 2021, employers are eager to find new ways to boost employee engagement. In many ways, this has flipped the script. Employees — not managers — are now the dominant voice in shaping the workplace culture. As a result, individuals with disabilities can expect greater empathy and understanding throughout their careers.
4. Social media boosts employer networking options for job candidates.
A staggering 85% of jobs are obtained through networking. But a disability may often be a barrier to participating in networking events or career fairs. For example, an event may require travel, or necessitate a registration or attendance process that doesn't incorporate accommodations for those with disabilities.
Thankfully, social media platforms such as LinkedIn and Facebook can make connecting to recruiters and employers easier. Your online profile can spotlight your skill set, work history, and more. This helps you lead with your strengths rather than be defined by your disability. Once you make a connection, you can meet over web conferencing to build your relationship. Even if an initial contact doesn't work out, there are benefits to expanding your network.
In the same way, employment sites like Indeed or Glassdoor can help you perform a job search for disability-minded employers. Technology can lead you to the right people and opportunities without the burdens associated with in-person events. Social media tools can also level the playing field by reducing the potential for bias and prioritizing evaluating job seekers based on their skills rather than their disability.
5. Online Educational Opportunities Are Readily Available.
Many companies have discovered that investing in additional training and education can enhance employee engagement. These opportunities also are good news for the world of disability employment. Job seekers can take advantage of online courses, webinars, and other programs that augment their skills and increase their value as potential employees.
Building a network can help you discover events like this. Your local chamber of commerce, local employment agencies and colleges may also direct you to area seminars or professional training programs.
These educational opportunities also give you a chance to diversify. For example, learning about a subject outside your immediate field might make you a more well-rounded candidate. This can give you a boost in a competitive job market. Learning new skills can also give you added confidence while pursuing a new job and keeping your resume up-to-date.
Disability Employment Assistance: Allsup Employment Services
Do you need a hand in navigating today's job market? AES is a Social Security Administration-authorized Employment Network, providing free services to beneficiaries through the Ticket to Work Program. Our professionals deliver resources and services nationwide to help SSDI recipients take full advantage of the incentives and support available when they return to work, including protecting their SSDI benefits and suspension of Continuing Disability Reviews.
Allsup Employment Services can help you prepare to work while protecting your SSDI benefits. Our experienced team has helped countless clients like you access new career opportunities through the Ticket to Work program.
If you're exploring options for your career, learn more at AllsupEmploymentServices.com or @AllsupESWork. Contact AES at (866) 540-5105 or request a call.